Gopal Nayak is the youngest enlightened spiritual guru for the new generation in India. Gopal is a pioneer in ushering in a new era of dogma-free spirituality to help people optimize their fate and fortune. Gopal's gift of seeing the future / destiny for people has led him to be highly sought after by business leaders, politicians, celebrities as well as regular people.
Gopal Nayak with Guruji Mahendra Trivedi with Late Shri Urmila Singh, then Governor of Himachal Pradesh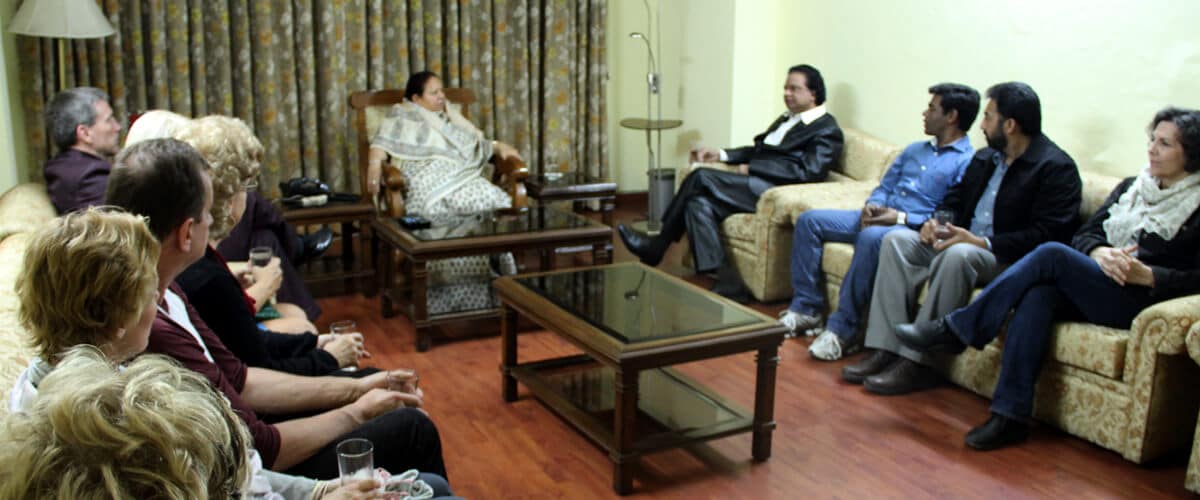 Gopal Nayak with Guruji Mahendra Trivedi and followers with Late Shri Urmila Singh, then Governor of Himachal Pradesh
Gopal has transformed the life thousands of individuals from around the world, especially in USA, Canada and Europe, impacting problems related to physical, mental and emotional health, improving business and finances as well as family and social relationships.
His gifts have been measured and validated at multi-billion-dollar research institutes and reported in over 350 peer reviewed scientific publications that are featured in over 3500 universities in more than 100 countries. These results, beyond the current understanding of science, are miraculous and only possible with divine intervention.
Gopal is on a mission to demonstrate the existence of God within purview of science.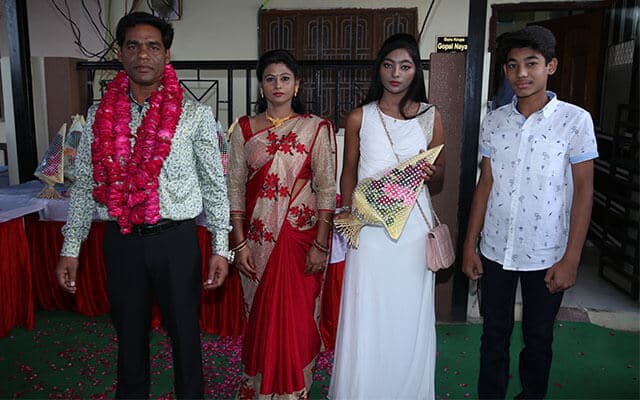 Gopal's Journey
Gopal's journey began in poverty, born in the small town of Neemuch in Madhya Pradesh, India. In his childhood, he lost two very important people in his life, his grandfather at two and half years of age and then his mother when he was six years old. His father was an irresponsible and careless man, who abandoned his familial responsibilities, including his children, even after the passing of Gopal's mother.
Gopal, the youngest of 4 siblings, with his older brother and two sisters was raised by his grandmother who was in her seventies. Due to sheer poverty Gopal was never able to attend school, even for a day because his grandmother had no money to buy books, school uniform and related supplies. From the tender age of four years, Gopal started helping his grandmother herd goats at a farm in the countryside.
As a small child living in poverty in rural India, Gopal had visions of a man he felt held the key to his destiny. When he was just nine years of age, the being he had seen in these visions appeared in his life. That being was Guruji Mahendra Trivedi.
Guruji Mahendra Trivedi has the ability to harness the energy from the universe and transmit it anywhere on the globe, infusing it into living organisms and nonliving materials, thus optimizing their potential. This unique phenomenon, which has the ability to benefit recipients according to their unique needs, has become world renowned as The Trivedi Effect®.
Guruji Mahendra Kumar Trivedi, the founder of the Trivedi Effect®, is on a mission to usher in a new era that integrates science, spirituality, and consciousness to vastly improve the human condition and benefit humanity on a global scale. To date, more than 250,000 people worldwide have benefited from the Trivedi Effect®. His organization, Trivedi Global, Inc., is collaborating with globally renowned product research and development organizations to bring to market proprietary products and therapies in the areas of nutraceuticals, pharmaceuticals, and more.
The Trivedi Effect® is an evidence-based phenomenon in which an individual can harness inherently intelligent energy from nature and transmit it to living organisms and non-living materials, anywhere in the world through thought intention, to significantly enhance potency and beneficially alter their characteristics and behaviors through transformation at the atomic, molecular, and cellular levels.
Guruji began to train Gopal as a potential master and six years later at the age of fifteen, he became the first person that Guruji led through the process of transformation to emerge as a spiritual master.
GOPAL HAS A GLOBAL FOLLOWING!
While Master Gopal has transformed the lives of countless people
worldwide remotely from his place of worship in Neemuch, India,
people rarely got the opportunity to meet him in person.
However, every few years, people from all over the world get a chance
to visit Gopal in-person, receive his Blessings and express their
gratitude.
In March 2013, forty people from all over the world including the USA,
Canada, United Kingdom, Ireland and Australia visited Gopal to receive
his Blessings.
In April 2017, fifty people from all over the world, including the USA,
Canada, United Kindgom and Finland, gathered in the small town of
Neemuch located in Madhya Pradesh, India to meet Gopal, participate
in the fire ceremony at his residence and receive his Blessings.
As a spiritual master, Gopal is fulfilling, extending and complementing the work of Mahendra Trivedi.